Read Time:
2 Minute, 10 Second
Between January and November 2022, AAA confirmed the massacre of least 73 Amhara civilians by invading Oromo Liberation Army (OLA) militants in Dera Woreda of North Shewa Zone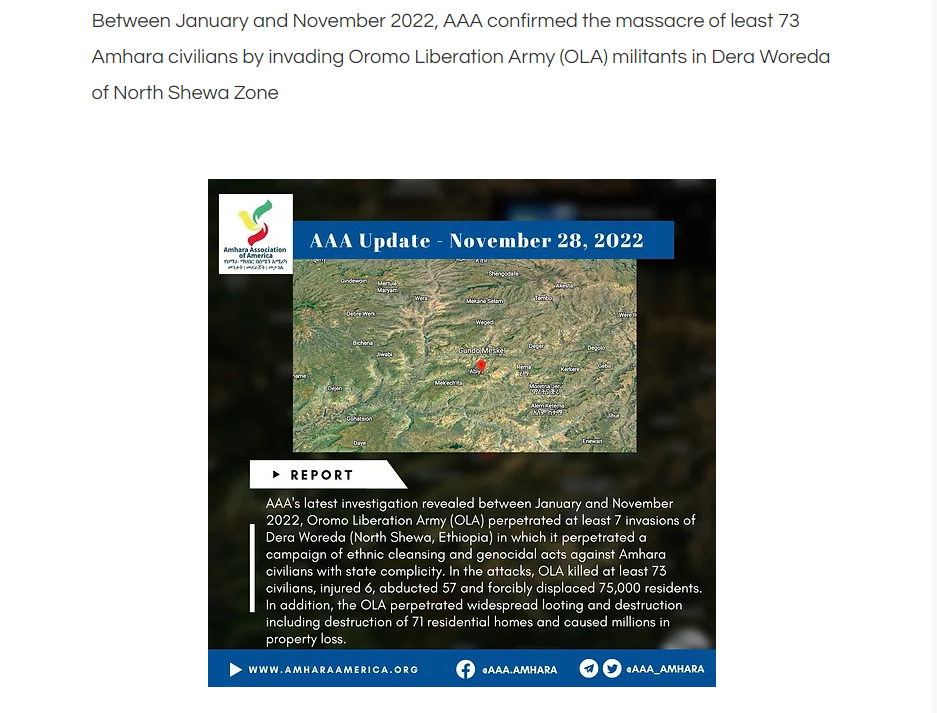 Executive Summary
The Amhara Association of America (AAA) has verified that the Oromo Liberation Army (OLA) invaded into Dera Woreda (district) [North Shewa Zone, Oromia Region, Ethiopia] in at least seven incidents this year (2022) during which it perpetrated identity-based attacks on Amhara civilians and their property. As a result, scores of civilians were killed, abducted and held for ransom, displaced and their property was looted or destroyed.
AAA's investigations revealed that at least 73 Amhara civilians were killed, and the names and, where possible, the sex, age, and location (town/kebele) have been identified for 71 victims. In addition, at least 6 civilians were injured. Survivors, eyewitnesses and residents accused the OLA of perpetrating these killings and accused government officials at the regional and federal levels of failing to protect them.
The invading OLA forces also abducted at least 57 Amhara civilians and demanded inordinate ransoms from their relatives (e.g. up to 500,000 ETB) for their return. Of these, 38 paid the requested amount but many others remain in the custody of the OLA militants. Overall, residents were extorted for millions of ETB in ransom, and in some cases, they paid the ransom to save their loved ones who were still executed by their captors.
Invading OLA forces also looted and destroyed property resulting in destruction of 71 residential homes, looting of cattle and property losses worth millions of ETB.
Furthermore, these brutal invasions forced an estimated 75,000 Amhara residents to flee their homes. Based on victim testimonies, the pattern of attacks in the wider region, and the historical context of Dera, the attacks against Amhara civilians in Dera by the OLA and its collaborators bear all the hallmarks of ethnic cleansing and genocide, with state complicity.
For more details, please see the body of the report below.
Historical Context
Dera Woreda is a district located in central Ethiopia, historically administered under the Merhabete Awraja (county) in the Shewa Kifle-hager (province), Ethiopia.1 In the 1990s, this historic Amhara district was forcibly incorporated into the Oromia Regional State. Following this, Amharas have advocated for recognition of their identity and restoration of Dera Woreda to be administered under the Amhara Region. However, the Tigray People's Liberation Front (TPLF)-led Ethiopian People's Revolutionary Democratic Front (EPRDF) and the Oromo People's Democratic Organization (OPDO) strongly oppressed and silenced the people's quest for self-administration.